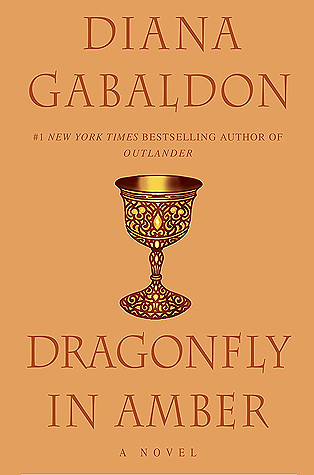 Title: Dragonfly in Amber
Author: Diana Gabldon
Pages: 74

3
Publisher: B

antam 2001
Genre: Historical Fiction
Synopsis:
For nearly twenty years Claire Randall has kept her secrets. But now she is returning with her grown daughter to Scotland's majestic mist-shrouded hills. Here Claire plans to reveal a truth as stunning as the events that gave it birth: about the mystery of an ancient circle of standing stones... about a love that transcends the boundaries of time... and about Jamie Fraser, a Scottish warrior whose gallantry once drew a young Claire from the security of her century to the dangers of his.
Now a legacy of blood and desire will test her beautiful copper-haired daughter, Brianna, as Claire's spellbinding journey of self-discovery continues in the intrigue-ridden Paris court of Charles Stuart... in a race to thwart a doomed Highlands uprising... and in a desperate fight to save both the child and the man she loves. (from Goodreads)
Review: It had been a good year since I read Outlander and have been trying to get to this book

eventually

. I really enjoyed continuing to see what happened after Outlander ended. This book isn't really one I would normally pick up, but since it's had some historical stuff I am able to enjoy it much better. I found it interesting how this book flips between two time periods throughout the book. It is written well so you are not confused or not sure who is narrating. This is one thing that could through the reader off, but Gabldon has done a great job

.
If you like the first book or into historical fiction with a lot of roman

ce than this book is for you.
My Review: